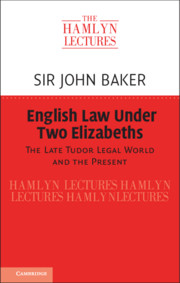 CUP is publishing a comparative legal history of English Law under the two Elizabeths.
ABOUT THE BOOK
Comparative legal history is generally understood to involve the comparison of legal systems in different countries. This is an experiment in a different kind of comparison. The legal world of the first Elizabethans is separated from that of today by nearly half a millennium. But the past is not a wholly different country. The common law is still, in an organic sense, the same common law as it was in Tudor times and Parliament is legally the same Parliament. The concerns of Tudor lawyers turn out to resonate with those of the present and this book concentrates on three of them: access to justice, in terms of both cost and public awareness; the respective roles of common law and legislation; and the means of protecting the rule of law through the courts. Central to the story is the development of judicial review in the time of Elizabeth I.
ABOUT THE AUTHOR
Sir John Baker, University of Cambridge
Sir John Baker is Emeritus Downing Professor of the Laws of England, University of Cambridge. His recent publications include the 5th edition of his An Introduction to English Legal History (2019), The Reinvention of Magna Carta 1216–1616 (Cambridge, 2017) and Collected Papers on English Legal History (Cambridge, 2013).
TABLE OF CONTENTS
I. The English Legal System under Elizabeth I
2. The Elizabethan Common Law
3. An Age of Common Law and an Age of Statute?
4. The Elizabethan Inheritance
5. Comparing Then and Now.
More info here