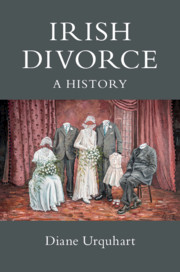 Cambridge University Press is publishing a new socio-legal history of divorce in Ireland.
ABOUT THE BOOK
This is the first history of Irish divorce. Spanning the island of Ireland over three centuries, it places the human experience of marriage breakdown centre stage to explore the impact of a highly restrictive and gendered law and its reform. It considers the accessibility of Irish divorce as it moved from a parliamentary process in Westminster, the Irish parliament and the Northern Ireland parliament to a court-based process. This socio-legal approach allows changing definitions of gendered marital roles and marital cruelty to be assessed. In charting the exceptionalism of Ireland's divorce provision in a European and imperial framework, the study uncovers governmental reluctance to reform Irish divorce law which spans jurisdictions and centuries. This was therefore not only a law dictated by religious strictures but also by a long-lived moral conservatism.
ABOUT THE AUTHOR
Diane Urquhart, Queen's University Belfast

Diane Urquhart is Professor of Gender History at Queen's University Belfast. She has written widely on Irish women's history and gender and is the author of The Ladies of Londonderry: Women and Political Patronage, 1800–1959 (2007) as well as Women in Ulster Politics, 1890–1940: A History Not Yet Told (2000), which was selected as an Irish Times Book of the Year. She is the editor of The Papers of the Ulster Women's Unionist Council and Executive Committee, 1911–40 (2001), co-editor of Irish Women at War: The Twentieth Century (2010) and co-author of The Irish Abortion Journey, 1922–2018 (2019) with Lindsey Earner-Byrne.
TABLE OF CONTENTS
Introduction. The 'anatomy of a divorce'
1. Divorce in two legislatures: Irish divorce, 1701–1857
2. The failings of the law: the cases of Talbot and Westmeath
3. A non-inclusive reform: Ireland and the Divorce and Matrimonial Causes Act of 1857
4. Divorce in the post-reform era of 1857–1922: 'Like diamonds, gambling, and picture-fancying, a luxury of the rich'?
5. The widening definition of marital cruelty
6. Divorce in court, 1857–1922
7. 'An exotic in very ungenial soil': divorce in the Northern Ireland parliament, 1921–1939
8. With as 'little provocative as possible': the Northern Ireland move to court
9. An 'unhappy affair': divorce in independent Ireland, 1922–1950
10. Marriage law 'in this country is an absolute shambles': the reform agenda
11. A 'curiosity [and]…an oddity': referenda in 1986 and 1995
12. The 'last stretch of a long road': the Family (Divorce) Law Act of 1996
Conclusion.