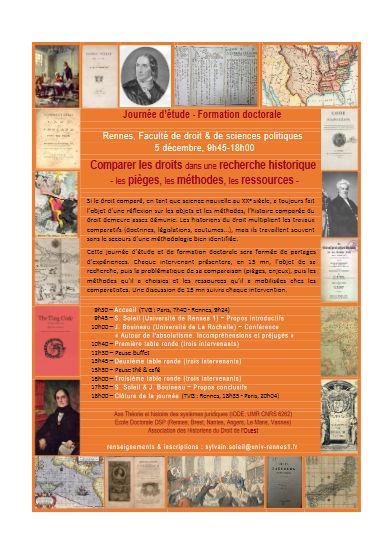 The École Doctorale DSP and the Association des Historiens du Droit de l'Ouest are organising a PhD workshop entitled

Comparer les droits dans une recherche historique - Les pièges, les méthodes, les ressources in Rennes.
Si le droit comparé, en tant que science nouvelle au XXe siècle, a toujours fait l'objet d'une réflexion sur les objets et les méthodes, l'histoire comparée du droit demeure assez démunie.
Les historiens du droit multiplient les travaux comparatifs (doctrines, législations, coutumes. Mais ils travaillent souvent sans le secours d'une méthodologie bien identifiée.
Cette journée sera formée de partages d'expériences. Chaque intervenant présentera, en 15mn, l'objet de sa recherche, puis la problématique de sa comparaison (pièges, enjeux), puis les méthodes qu'il a choisies et les ressources qu'il a mobilisées chez les comparatistes. Une discussion de 15mn suivra chaque intervention.
Journée organisée conjointement avec l'Association des Historiens du Droit de l'Ouest, le Centre d'Histoire du Droit et l'Ecole doctorale de Droit et de Sciences Politiques (Rennes, Nantes, Angers, Le Mans, Brest, Vannes), à l'initiative de son directeur le Professeur
Sylvain Soleil
.
9h30 : Accueil
9h45 : Propos introductifs
10h00 : Conférence inaugurale : « Autour de l'absolutisme. Incompréhensions et préjugés »
10h40 : Influence, adaptation, transfert, transposition, quels mots/concepts utiliser en matière de circulation de droits ?
Hugo Beuvant, Doctorant à l'Université de Rennes 1
11h10 : Comparer les statuts urbains médiévaux
Romain Broussais, Doctorant à l'Université Paris II Panthéon-Assas
11h40 : La comparaison franco-russe : un difficile combat contre les préjugés
Alix Nicolas, Doctorante à l'Université de Poitiers
13h45 : La purgation de l'absent et du contumace dans la procédure canonique. Approche comparatiste de la réinterprétation médiévale d'un concept romain
Rachel Guillas, Doctorante à l'Université Paris II Panthéon-Assas
14h15 : La réglementation des assurances sur la vie en France et en Angleterre : perspectives de comparaison
Marine Vigneron, Doctorante à l'Université Toulouse 1 Capitole
14h45 :
Les régimes dotaux de droit commun en Europe et en Afrique de l'Ouest à la veille de la colonisation.
Le problème de la comparabilité des sources
Théa Martial Dougbo, Maître assistant à l'Université Houphouët Boigny d'Abidjan
16h00 : La constitution transigere (C, 2, 4, 18) chez les penseurs du ius commune. Analyse comparatiste de l'hypothèse de la transaction en matière de crime de faux
Alexandre Mimouni, Doctorant à l'Université Paris II Panthéon-Assas
16h30 : La délimitation de la frontière dans les traités de paix français de la période moderne : consensus européen ou procédure nationale ?
Claire de Blois, Doctorante à l'Université Paris V Descartes
17h00 : L'étude du droit français civil et commercial à travers le prisme du droit local : une méthode sur-mesure
Elodie Coutant, Doctorante à l'Université de Bordeaux
17h30 : Propos conclusifs
18h00 : Clôture de la journée
Faculté de droit et de science politique