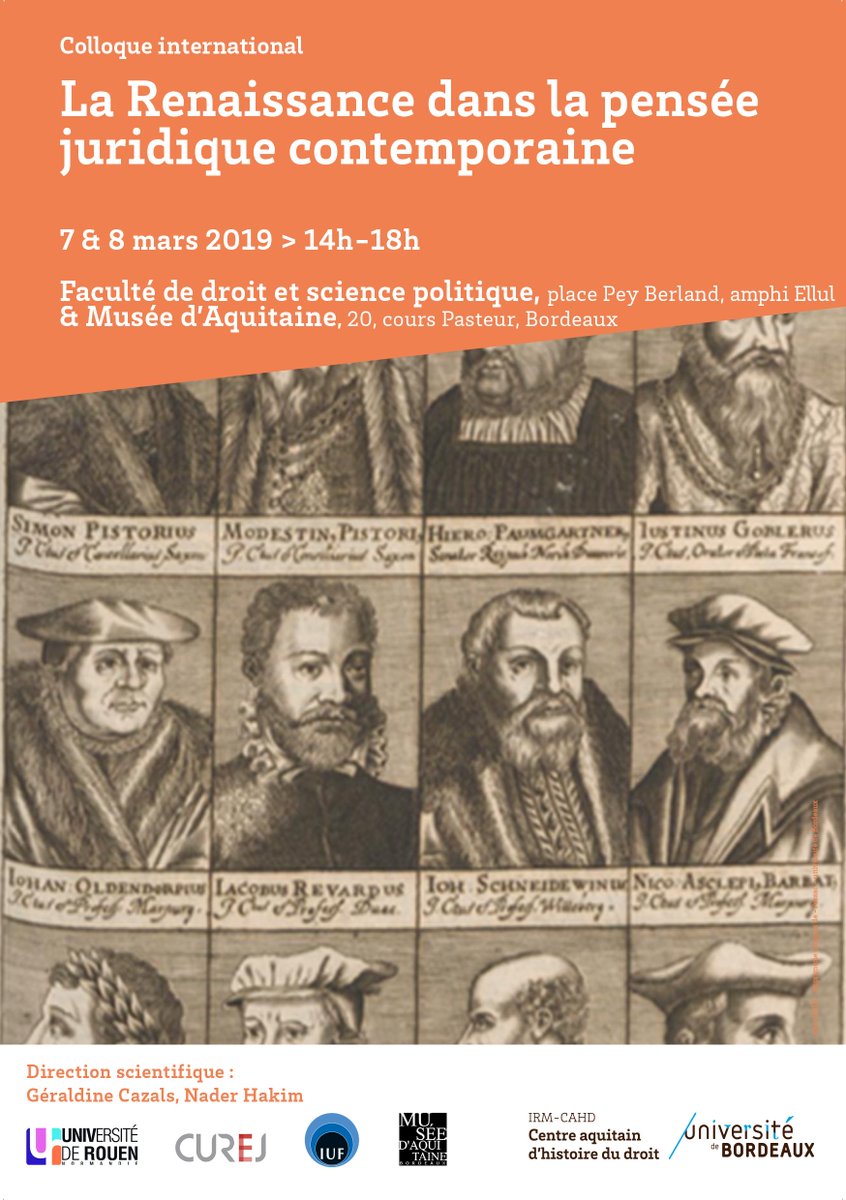 Overview of the papers presented below.
Thursday 7 March:
Introduction. Continuités et discontinuités de la pensée juridique (Géraldine Cazals, Institut universitaire de France/Université de Rouen Normandie et Nader Hakim, université de Bordeaux)
L'humanisme juridique : pour une gouvernance alternative (Alain Wijffels, Centre national de la recherche scientifique, Centre d'histoire judiciaire/Université de Louvain, Lille)
The place of legal humanism in shaping the 19th century idea of law. The case of Bartoliens and Cujaciens in Jacques Berriat-SaintPrix, Histoire du droit romain, suivie de l'histoire de Cujas (1821) (Adolfo Giuliani, Université d'Helsinki)
Le concept d'équité au XIXe siècle et celui des juristes français de la Renaissance (Lorenzo Maniscalco, Université de Cambridge)
Portalis et les auteurs du XVIe siècle (Raphaël Cahen, chercheur postdoctoral, Vrije Universiteit Bruxelles)
Friday 8 March:
Le droit et l'Église chez Pietro Tamburini. L'influence française (Grazia Grasso, Institut international de Lancy, Genève)
La place des auteurs de la Renaissance dans les recueils d'arrêts du XIXe siècle (Pierre-Nicolas Barenot,Université de Saint-Étienne)
L'édition des œuvres des jurisconsultes humanistes français au XIXe siècle (Xavier Prévost, université de Bordeaux)
L'historiographie contemporaine face au droit privé de la Seconde Scolastique : discontinuités et débats (Luisa Brunori)
L'œuvre de Guillaume Budé et son historiographie aux XIXe et XXe siècles (Luigi-Alberto Sanchi, Centre national de la recherche scientifique, Institut d'histoire du droit, Paris)
The full brochure can be downloaded
here
.