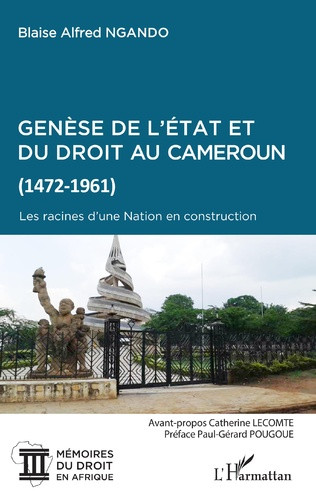 L'Harmattan is publishing a new book on the legal history of Cameroon.
ABOUT THE BOOK
Quelles sont les racines juridiques et anthropologiques du Cameroun ? Ce livre examine cette question dans le long terme, de 1472 et de l'exploration de la côte camerounaise par les navigateurs portugais jusqu'en 1961, avec la réunification du Cameroun, analysant les chemins de traverse à partir desquels les citoyens de ce pays peuvent consolider ou réinventer leur unité nationale. Comment réagencer dans le cadre institutionnel le bijuridisme étatique issu de l'héritage colonial franco-britannique, tout en valorisant les coutumes de la société traditionnelle africaine ?
ABOUT THE AUTHOR
Blaise Alfred NGANDO
est Agrégé d'histoire du droit (Major CAMES 2013). Maître de Conférences à l'Université de Yaoundé 2 - Soa, il est auteur de plusieurs publications. Il occupe depuis 2014 le poste de Directeur du Centre des Ressources Documentaires de la Faculté des Sciences Juridiques et Politiques à l'Université de Yaoundé 2 - Soa. Il est, par ailleurs, avocat aux Barreaux des Hauts de seine - France et du Cameroun.