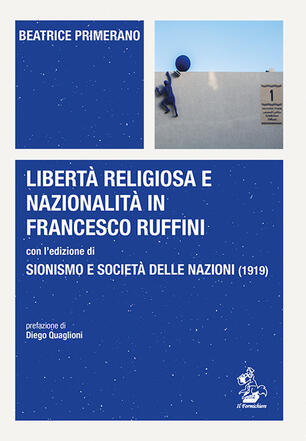 (Source:
Il Formichiere
)
ABOUT THE BOOK
A un secolo esatto dalla sua pubblicazione vede nuovamente la luce Sionismo e Società delle Nazioni di Francesco Ruffini (1863-1934), vivo documento di un momento cruciale della vita politica internazionale, all'indomani della Grande Guerra e mentre le potenze vincitrici ridefinivano il nuovo ordine mondiale nella Conferenza di Parigi. La causa dell'ebraismo mondiale appariva a Ruffini degna di essere assunta come una bandiera che teneva uniti insieme i due princìpi ai quali egli aveva dedicato la sua vita di studioso: il principio della libertà religiosa e il principio di nazionalità, vissuto nella dimensione della tradizione mazziniana e manciniana, spiritualista e libertaria, contro ogni tendenza nazionalistica e autoritaria. Giurista dalla forte componente storicistica, storico del diritto egli stesso e maestro nel diritto ecclesiastico, Ruffini non poteva che attingere alla migliore tradizione italiana, dal Cattaneo delle Interdizioni israelitiche al Mancini della prolusione Della nazionalità come fondamento del diritto delle genti. Queste basi scientifiche e culturali sono anche all'origine della sua avversione dichiarata per il nazionalismo di matrice germanica, dal quale Ruffini vede sorgere l'antisemitismo, cui sono dedicate in questo libro pagine illuminate e sferzanti, ricche di sorprendenti intuizioni. La riedizione di Sionismo e Società delle Nazioni ad opera di Beatrice Primerano è un contributo alla conoscenza di un momento irripetibile della storia giuridica e politica del Novecento, nel quale la migliore cultura giuridica italiana partecipava alla costruzione di un nuovo ordine mondiale sulla base di princìpi generati dal ripudio della concezione «naturalistica e quindi egoistica» del principio di nazionalità, concezione, «per ulteriore conseguenza, esclusiva, aggressiva ed oppressiva»: princìpi che Ruffini stimava propri di una opposta concezione, «nostra, spiritualistica ed altruistica, e cioè tollerante, conciliante e affratellante», e che egli non esitava a credere oramai prevalsa con la vittoria sopra gli Imperi e destinata a presiedere al futuro assetto della Società delle Nazioni. (Diego Quaglioni)
ABOUT THE AUTHOR
Francesco Ruffini (1863-1934), giurista, senatore del Regno (1914), ministro della Pubblica istruzione (1916-1917), socio nazionale dei Lincei, professore di diritto ecclesiastico; di orientamento liberale, fu uno dei pochi professori universitari che, nel 1931, rifiutarono il giuramento al regime fascista e furono per questo dimessi dalla cattedra. I suoi interessi storico-giuridici e la formazione politica lo orientarono verso i problemi della libertà religiosa e dei rapporti fra Stato e Chiesa; fu grande estimatore della figura di Cavour, al quale dedicò saggi e monografie. Tra le sue opere si ricordano: La buona fede in materia di prescrizione (1892), l'edizione italiana del Trattato di diritto ecclesiastico cattolico ed evangelico di E. Friedberg, arricchita di ampie note e appendici (1893), Guerra e riforme costituzionali (1920), La giovinezza del conte di Cavour (1922) e la pubblicazione di un corso di lezioni tenute all'Accademia di diritto internazionale dell'Aia dal titolo De la protection internationale des droits sur les oeuvres littéraires et artistiques (1927).
Beatrice Primerano ha studiato a Trento nella Facoltà di Giurisprudenza, dove si è laureata, e a Lione presso l'École Normale Supérieure. È dottore di ricerca in Studi Giuridici Comparati ed Europei. Studiosa del pensiero giuridico otto-novecentesco e attiva collaboratrice della Fondazione Museo Storico del Trentino, insegna Storia della giustizia nella Facoltà di Giurisprudenza di Trento.
More information available with the
publisher
.