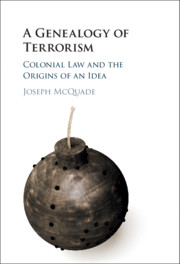 Cambridge is publishing a new book tracing the genealogy of counter-terrorism laws in colonial India.
ABOUT THE BOOK
Using India as a case study, Joseph McQuade demonstrates how the modern concept of terrorism was shaped by colonial emergency laws dating back into the nineteenth and early twentieth centuries. Beginning with the 'thugs', 'pirates', and 'fanatics' of the nineteenth century, McQuade traces the emerging and novel legal category of 'the terrorist' in early twentieth-century colonial law, ending with an examination of the first international law to target global terrorism in the 1930s. Drawing on a wide range of archival research and a detailed empirical study of evolving emergency laws in British India, he argues that the idea of terrorism emerged as a deliberate strategy by officials seeking to depoliticize the actions of anti-colonial revolutionaries, and that many of the ideas embedded in this colonial legislation continue to shape contemporary understandings of terrorism today.
ABOUT THE AUTHOR
Joseph McQuade, University of Toronto
Joseph McQuade is the RCL Postdoctoral Fellow at the University of Toronto's Asian Institute.
TABLE OF CONTENTS
Introduction. The colonial prose of counterterrorism
1. Ethereal assassins: colonial law and 'hereditary crime' in the nineteenth century
2. 'The magical lore of Bengal': surveillance, swadeshi, and propaganda by bomb, 1890s to 1913
3. 'The eye of government is on them': anti-colonialism and emergency during the First World War
4. Indefinite emergency: revolutionary politics and 'terrorism' in interwar India
5. Terrorism as a 'world crime': the British Empire, international law, and the invention of global terrorism
Conclusion. Empire, law, and terrorism in the twenty-first century.
More info here