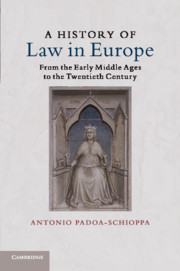 Book abstract:
With its roots in ancient Greece, Roman law and Christianity, European legal history is the history of a common civilisation. The exchange of legislative models, doctrines and customs within Europe included English common law and has been extensive from the early middle ages to the present time. In this seminal work which spans from the fifth to the twentieth century, Antonio Padoa-Schioppa explores how law was brought to life in the six main phases of European legal history. By analysing a selection of the institutions of private and public law which are most representative of each phase and of each country, he also sheds light on the common features throughout the history of European legal culture. Translated in English for the first time, this new edition has been revised to include the recent developments of the European Union and the legal-historical works of the last decade.
Reviews:
'… a finely detailed and richly contextual account of European legal history. Originally published in 2007 in Italian, this 2017 edition is the first English translation of the title … The content of the book starts far earlier in time than most European legal history volumes, beginning with a retelling of law, church, kingdoms, and customs from as early as the fifth century. … [It] leads readers through the six main phases of European legal history, including an updated section that covers recent developments in the European Union. … this work is well-suited to a historian looking for a precisely detailed time line of European history as it relates to the law.' E. Millspaugh, CHOICE connect
Table of contents
here
.
More information with the
publisher
.