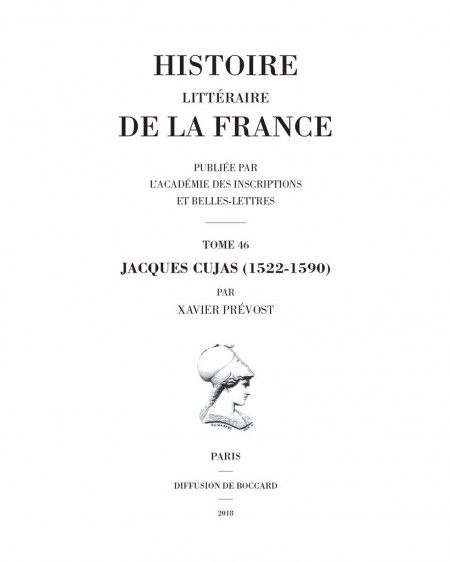 (image source: univ-droit)
Book abstract:
Jacques Cujas reste encore aujourd'hui l'un des plus célèbres jurisconsultes français, bien que son œuvre demeure trop largement méconnue. Né à Toulouse en 1522, il poursuit une riche et itinérante carrière de professeur de droit romain. Après avoir effectué l'intégralité de ses études dans sa ville natale, il est docteur-régent à Cahors (1554-1555), Bourges (1555-1557, 1559-1566 et 1575-1590), Valence (1558-1559 et 1567-1575) et Turin (1566-1567), et enseigne brièvement à Paris en 1576. Au cours de cette carrière ascensionnelle (qui s'achève par sa mort à Bourges le 4 octobre 1590), Cujas publie de nombreux ouvrages qui lui confèrent une très grande renommée et attirent à lui la foule des étudiants. Cette gloire est principalement due à la compréhension renouvelée des textes de droit romain résultant de l'application des savoirs humanistes à l'étude du droit. Figure de la Renaissance, Jacques Cujas apparaît, plus particulièrement, comme le principal représentant de la méthode historique au sein du courant de l'humanisme juridique.
More information with the
publisher
.
(source:
univ-droit
)