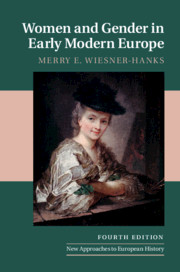 Abstract:
This fourth edition of Merry E. Wiesner-Hanks's prize-winning survey features significant changes to every chapter, designed to reflect the newest scholarship. Global issues have been threaded throughout the book, while still preserving the clear thematic structure of previous editions. Thus readers will find expanded discussions of gendered racial hierarchies, migration, missionaries, and consumer goods. In addition, there is enhanced coverage of recent theoretical directions; the ideas, beliefs, and practices of ordinary people; early industrialization; women's learning, letter writing, and artistic activities; emotions and sentiments; single women and same-sex relations; masculinities; mixed-race and enslaved women; and the life course from birth to death. With geographically broad coverage, including Russia, Scandinavia, the Ottoman Empire, and the Iberian Peninsula, this remains the leading text on women and gender in Europe in this period. Accompanying this essential reading is a completely revised website featuring extensive updated bibliographies, web links, and primary source material.
On the editor:
Merry E. Wiesner-Hanks is a Distinguished Professor of History and Women's and Gender Studies at the University of Wisconsin, Milwaukee. She is the senior editor of the Sixteenth Century Journal, an editor of the Journal of Global History, the editor-in-chief of the seven-volume The Cambridge World History (Cambridge, 2015), and the author or editor of thirty books and more than 100 articles or book chapters that have appeared in English, German, French, Italian, Spanish, Greek, Chinese, Turkish, and Korean. These include A Concise History of the World (Cambridge, 2015), Early Modern Europe 1450–1789 (Cambridge, 2013), and Gender in History: Global Perspectives (2010).
More information with the
publisher
.