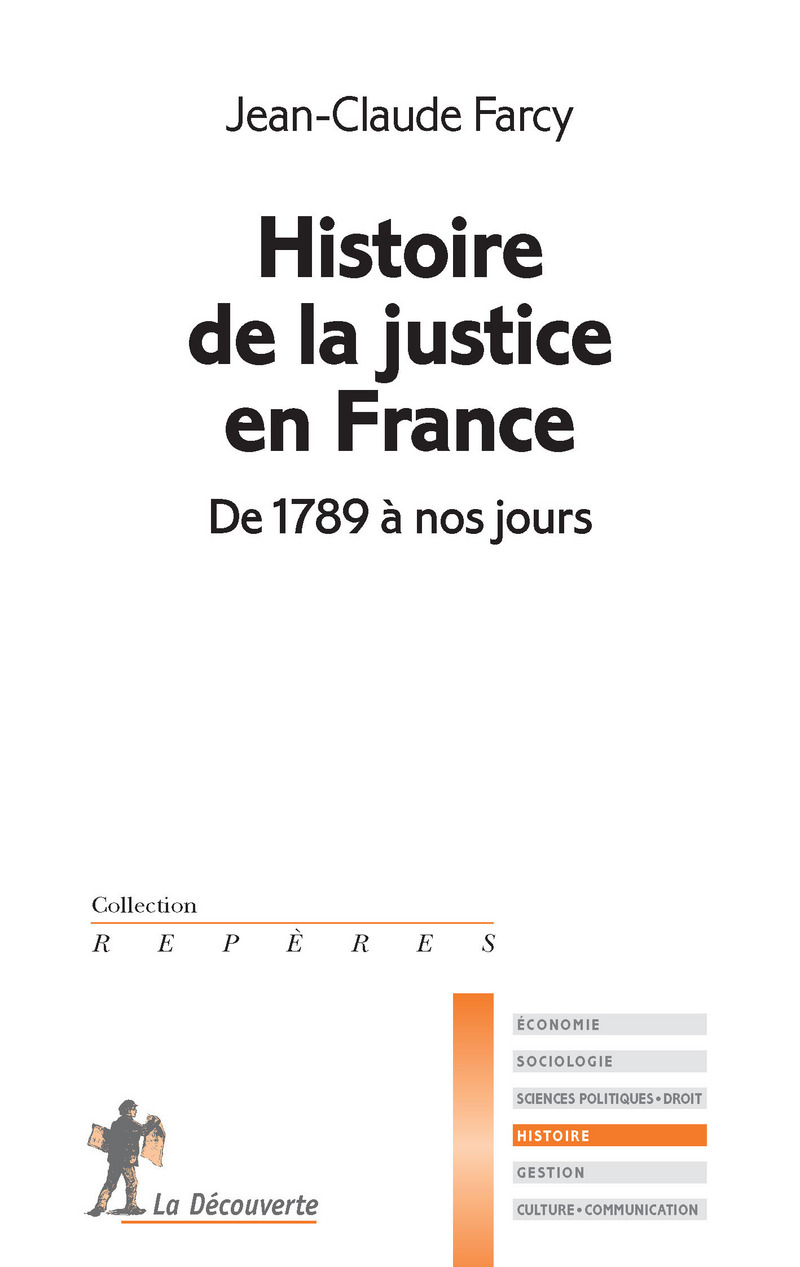 Jean-Claude Farcy (
Centre Georges Chevrier/CNRS, Dijon
) published a general overview of the history of justice in France from the Revolution on.
Abstract:
L'histoire de la justice a été profondément renouvelée au cours des dernières décennies, parallèlement à la place nouvelle acquise par les juges dans la société comme dans leurs rapports avec le pouvoir politique. Ce livre en propose une synthèse en mettant l'accent sur l'évolution des institutions juridictionnelles, de la magistrature et de la façon dont celle-ci régule les conflits civils et réprime les infractions pénales.Il met en lumière la succession de trois modèles de justice. La révolution de 1789 institue une justice libérale et démocratique fondée sur la souveraineté nationale, les citoyens étant étroitement associés à son exercice. Ce modèle libéral fait place, à partir du Consulat, à celui d'une justice étatisée, contrôlée par le pouvoir politique, exécutif dans les périodes autoritaires, parlementaire sous les régimes républicains. Le mouvement d'émancipation des juges, amorcé dans les années 1970, conduit à s'interroger depuis sur l'existence d'un nouveau modèle : au sein d'un État de droit, la justice aurait acquis sinon une place dominante, du moins plus d'indépendance.
Table of contents:
Introduction




I / Du modèle libéral à la justice étatisée (la Révolution et l'Empire)

La justice à la fin de l'Ancien Régime
Le roi, juge suprême - L'enchevêtrement des juridictions - Une justice vénale - L'opposition parlementaire et la réforme impossible de la justice
Le modèle libéral de la Constituante
Justice et souveraineté populaire - Concilier plutôt que juger - Rationalisation de la justice civile - Une répression pénale partagée avec les citoyens - Des juges élus
La justice révolutionnaire
Justice politique et défense de la Révolution - Les tribunaux révolutionnaires
Vers un modèle étatique de justice
Le Directoire et les premiers reculs du modèle libéral - Les réformes consulaire et impériale : une justice étatisée - Une justice pénale pour régime autoritaire

II / La stabilité du modèle napoléonien (1810-milieu du XXe siècle)

Une relative stabilité institutionnelle
Une carte judiciaire immobile - L'impossible réforme judiciaire - Le développement des juridictions professionnelles - Création et essor de la justice coloniale
Un personnel judiciaire sous contrôle
Des juges notables aux couches nouvelles - Le contrôle de la magistrature - Les épurations lors des changements de régime - Culture professionnelle et soumission au pouvoir en place - L'exception des avocats ?
L'évolution de la justice civile
Une demande de justice stable - Apogée et déclin de la justice de paix - Procédure accusatoire et rôle du juge
L'évolution de la justice pénale
L'évolution du contentieux pénal - La montée en puissance du parquet - Le juge d'instruction, tout puissant et marginalisé - Un jury criminel toléré, mais diminué - La peine entre exclusion et atténuation - La prison : l'impossible réforme - Les mineurs : de la correction à l'éducation surveillée
Le développement des juridictions spécialisées
Échevinage et essor des juridictions spécialisées d'après guerre - Une justice administrative plus autonome - La justice militaire
Justice et politique
Le parquet, instrument du gouvernement - Haute Cour et procès politiques - Juridictions d'exception et magistrature

III / Du milieu du XXe siècle au début du XXIe siècle : une nouvelle justice ?

Permanences et réformes institutionnelles (années 1950-1960)
Guerres coloniales et justice d'exception - Les réformes de 1958
La justice face aux mutations d'une société en crise (années 1970-début du XXIe siècle)
Crise et croissance des contentieux civils - Une justice civile de service public - L'explosion du contentieux pénal - Une justice pénale sous l'emprise du parquet - Des prisons sous tension
Vers une renaissance du pouvoir judiciaire ?
Une nouvelle magistrature - Des juges contestataires - Un gouvernement des juges ?
Les limites à la montée en puissance de la justice
Une reprise en main par le pouvoir au début du XXIe siècle ? - Les moyens de la justice

Conclusion
More information on the publisher's
website
.
Source:
Nomôdos
.