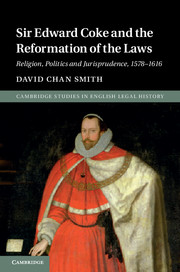 Daniel Gosling reviewed David Chan Smith (Wilfried Laurier University)'s book
Sir Edward Coke and the Reformation of the Laws. Religion, Politics and Jurisprudence, 1578-1616
([Cambridge Studies in English Legal History], Cambridge, Cambridge UP, 2014, 308 p., ISBN 9781107069299, £ 110).
First paragraphs:
To say that Sir Edward Coke is a much-studied man is somewhat of an understatement. However, in Sir Edward Coke and the Reformation of the Laws David Chan Smith has managed to craft a history of the great Elizabethan and Jacobean jurist that sets itself apart from other histories, in viewing Coke's life through the prism of his legal reforms, rather than offering another general biography of the English common lawyer.
Smith acknowledges the wealth of existing literature on Edward Coke early on in his discussion (p. 1), specifically identifying a total of eleven biographies ranging from Cuthbert Johnson's The Life of Sir Edward Coke, published in 1837, to more recent contributions such as Allen Boyer's Sir Edward Coke and the Elizabethan Age, published in 2003.(1) Additionally, Smith identifies a number of separate works that delve into different aspects of Coke's character and use of the law, from Charles Gray's analysis of his use of the Writ of Prohibition, to George Garnett's analysis of Coke's abilities as an historian.(2) Instead of repeating the content of these works, Smith's text instead looks to reframe the origins of Coke's legal thought within the context of law reform, and in so doing provide a new interpretation of Coke's early career, the development of his legal though, and ultimately his path from royalism to opposition. It is this final point that is most strongly argued throughout the book.
The fulltext (including a response by the author) is online on
recensio.net