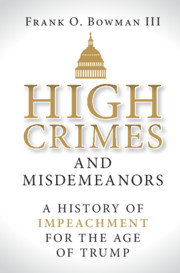 Cambridge University Press has published a new book on the history of impeachment.
For the third time in forty-five years, America is talking about impeaching a president, but the impeachment provisions of the American constitution are widely misunderstood. In High Crimes and Misdemeanors, constitutional scholar Frank O. Bowman, III offers unprecedented clarity to the question of impeachment, tracing its roots to medieval England through its adoption in the Constitution and 250 years of American experience. By examining the human and political history of those who have faced impeachment, Bowman demonstrates that the Framers intended impeachment to be a flexible tool, adaptable to the needs of any age. Written in a lively, engaging style, the book combines a deep historical and constitutional analysis of the impeachment clauses, a coherent theory of when impeachment should be used to protect constitutional order against presidential misconduct, and a comprehensive presentation of the case for and against impeachment of President Trump. It is an indispensable work for the present moment.
Frank O. Bowman III
, University of Missouri

Frank O. Bowman, III is a law professor, legal historian, and former federal and state prosecutor. He has written extensively on impeachment in legal journals and the popular press, including the New York Times, Politico, and Slate, where he is regular contributor. He has provided testimony to both Houses of Congress on multiple subjects including the meaning of 'high crimes and misdemeanors' during the Clinton impeachment crisis.
1. How to interpret the Constitution's impeachment clauses
2. British impeachments (1376–1787)
3. American impeachments before 1787
4. The Founders' impeachment
5. Impeaching legislators and lesser executive branch officials
6. Impeachment of judges
7. The impeachment of Andrew Johnson
8. The fall of President Richard Nixon
9. The strange case of William Jefferson Clinton
10. The scope of impeachable presidential conduct: general principles
11. Impeachment for obstruction of justice
12. Impeachment for abuse of the pardon power
13. Impeachment for lying
14. Impeachment for corruption – schemes of peculation, the emoluments clauses, and the avaricious president
15. The twenty-fifth amendment as an alternative to impeachment
16. Impeaching Donald Trump