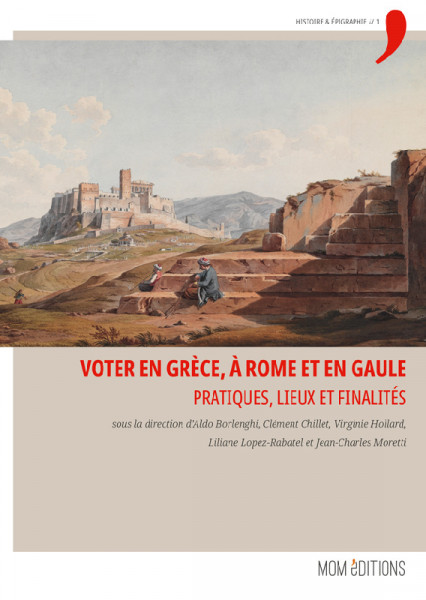 MOM Editions has published an edited collection on voting and voting systems in Ancient Greece, Rome and Gaul.
ABOUT THE BOOK
Dans ses aspects aussi bien théoriques que matériels, le système du vote dans les mondes grec et romain a depuis longtemps été exploré au sein d'études plus générales sur les institutions ou les différents types de régimes politiques. Il n'a cependant jamais fait l'objet de publications réunissant à la fois les témoignages textuels et les résultats des fouilles archéologiques, dans l'optique d'une compréhension globale de cette pratique.
De ce constat est né le projet d'une synthèse portant sur les modalités, les lieux et les finalités du vote en Grèce, à Rome et en Gaule, dans une perspective comparatiste. Menée dans le cadre d'un programme de recherche interdisciplinaire soutenu par l'université Lumière Lyon 2 et la Maison de l'Orient et de la Méditerranée, cette recherche a suscité, selon les régions et les périodes concernées, des questionnements spécifiques mais elle a aussi fait émerger des points de convergence.
La collaboration de chercheurs issus de plusieurs disciplines – l'histoire, la philologie et l'archéologie – a permis de cerner la pratique du vote à travers ses implications politiques, ses modalités procédurales et la place qui lui a été réservée dans l'espace civique par les différentes sociétés antiques qui l'ont mise en œuvre.
Le présent ouvrage, qui présente une synthèse sur chacune des aires géographiques étudiées et rassemble vingt et une contributions issues de séminaires ou de journées d'études qui se sont tenus à Lyon, à la Maison de l'Orient et de la Méditerranée, de la fin de l'année 2012 au printemps 2014, propose une approche inédite de l'acte de vote dans l'Antiquité.
TABLE OF CONTENTS
Préface
Première partie – Le monde grec
Liliane Lopez-Rabatel
Introduction
Liliane Lopez-Rabatel
Le vote dans le monde grec, procédures et équipement
Marcel Piérart
Ni anarchie ni despotisme. Les élections du Conseil dans la cité des Lois
Christine Mauduit
Le suffrage d'Athéna : réflexions sur le vote dans la tragédie grecque
Enzo Lippolis
Riunioni, operazioni di voto e agoni nell'agorà di Atene
Jean-Charles Moretti
La Pnyx, lieu de vote
Deuxième partie – Le monde romain
Clément Chillet, Virginie Hollard
Introduction
• Les procédures
Dominique Hiébel
Les élections romaines, emblèmes de la souveraineté populaire ou artifices politiques de l'oligarchie ?
Xavier Dupuis
Les curies électorales dans les cités provinciales, une évolution du modèle romain ?
Frédéric Hurlet
Le tirage au sort dans les cités de l'Occident romain
Michel Tarpin
La paperasse avant le papier : enregistrement, déclarations, identité, contrôles à Rome
• Les lieux
Yann Bertelet
Templa de majesté et conception du vote à Rome
Michel Humm
Les espaces comitiaux à Rome pendant la période républicaine
Clément Chillet
Le comitium comme lieu de vote à Rome : une relecture
Aldo Borlenghi
Les installations de vote dans les villes d'Italie : état de la question sur les assemblées électorales dans l'aire du forum
• Les finalités
Gilles van Heems
Le suffrage archaïque : vote et assentiment populaire en Étrurie et à Rome à l'époque des rois et des tyrans
Virginie Hollard
Étude sur la nominatio dans les élections des magistrats de Rome. Éléments apportés à l'histoire d'une étape technique du vote romain et de son évolution entre la République et le régime impérial
Théo Brignoli
La plèbe et le peuple, modalités de l'expression d'organes essentiels de la cité
Troisième partie – Le monde gaulois
Aldo Borlenghi
Introduction
Emilie Mitsakis
Les procédures électorales en Gaule d'après les sources littéraires
Franck Perrin
À la recherche d'un corps civique en Gaule préromaine
Catherine Gaeng, Patrice Méniel, Jeannot Metzler
L'espace public de l'oppidum de Titelberg (L)
Romain Guichon
Des jetons de vote gaulois ? Le petit mobilier circulaire en contexte politico-religieux
Matthieu Poux
Voter dans les sanctuaires en Gaule romaine : espaces architecturaux, indices matériels et cadre institutionnel
Postface
Yves Sintomer
Voter dans l'Antiquit : un regard depuis le XXIe siècle