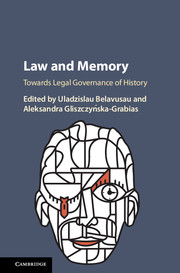 Cambridge University Press has recently published the book "Law and Memory: Towards Legal Governance of History"
Legal governance of memory has played a central role in establishing hegemony of monumental history, and has forged national identities and integration processes in Europe and beyond. In this book, a range of contributors explore both the nature and role of legal engagement into historical memory in selected national law, European and international law. They also reflect on potential conflicts between legal governance, political pluralism, and fundamental rights, such as freedom of expression. In recent years, there have been numerous monumental commemoration practices and judicial trials about correlated events all over the world, and this is a prime opportunity to undertake an important global comparative scrutiny of memory laws. Against the background of mass re-writing of history in different parts of the world, this book revisits a fascinating subject of memory laws from the standpoint of comparative law and transitional justice.
Introduction: Memory Laws: Mapping a New Subject in Comparative Law and Transitional Justice 1 Uladzislau BELAVUSAU and Aleksandra GLISZCZYŃSKA-GRABIAS
Part I International Law 27
1 The United Nations Human Rights Committee's View of the Past 29 Antoon DE BAETS
2 The Role of International Criminal Tribunals in Shaping the Historical Accounts of Genocides 48 Marina AKSENOVA
3 The 'Right to Truth' in International Law: The 'Last Utopia'? 70 Patricia NAFTALI
Part II European Law (Council of Europe and the European Union) 89
4 Kononov v. Latvia as an Ontological Security Struggle over Remembering the Second World War 91 Maria MÄLKSOO
5 Testing the 'Uniqueness': Denial of the Holocaust vs Denial of Other Crimes before the European Court of Human Rights 109 Paolo LOBBA
6 Legislating History: The European Union and the Denial of International Crimes 129 Luigi CAJANI
Part III National Perspectives within the European Union 149
7 Challenging Historical Facts and National Truths: An Analysis of Cases from France and Greece 151 Ioanna TOURKOCHORITI
8 Legal Silences and the Memory of Francoism in Spain 175 Alfons ARAGONESES
9 Politics of Public Knowledge in Dealing with the Past: Post-communist Experiences and Some Lessons from the Czech Republic 195 Jiří PŘIBÁŇ
10 Adjudication in Latvian Deportation Cases: References to International Law 216 Ieva MILUNA
11 Judging the Conducător: Fascism, Communism, and Legal Discontinuity in Post-War Romania 228 Cosmin Sebastian CERCEL
12 Dealing with the Past in and around the Fundamental Law of Hungary 246 Miklós KÖNCZÖL
13 On the Politics of Resentment, Mis-memory, and Constitutional Fidelity: The Demise of the Polish Overlapping Consensus? 263 Tomasz Tadeusz KONCEWICZ
Part IV Perspectives beyond the European Union 291
14 Defending Stalinism by Means of Criminal Law: Russia, 1995–2014 293 Nikolay KOPOSOV
15 Cutting the Umbilical Cord: The Narrative of the National Past and Future in Ukrainian De-communization Policy 310 Lina KLYMENKO
16 Banning Genocide Denial – Should Geography Matter? 329 Robert A. KAHN
17 "From Banning Nakba to Bridging Narratives": The Collective Memory of 1948 and Transitional Justice for Israelis and Palestinians 348 Jeremie M. BRACKA
18 Historical Revisionism and the Settler State: The Canadian Experience 374 Michael MORDEN
19 Defense of Democracy and the Preservation of Collective Memory through Criminal Legislation: The Challenges of Reconciliation in Peru 395 Salvador HERENCIA CARRASCO
Epilogue: Beyond 'Memory Laws': Towards a General Theory of Law and Historical Discourse 413
For more information, please visit the website of the publisher.