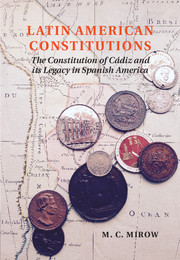 The
Legal History Blog
signals the new book of Prof. Mathew C. Mirow
Abstract:
Latin American Constitutions provides a comprehensive historical study of constitutionalism in Latin America from the independence period to the present, focusing on the Constitution of Cádiz, a foundational document in Latin American constitutionalism. Although drafted in Spain, it was applied in many regions of Latin America, and deputies from America formed a significant part of the drafting body. The politicization of constitutionalism reflected in Latin America's first moments proved to be a lasting legacy evident in the legal and constitutional world of the region today: many of Latin America's present challenges to establishing effective constitutionalism can be traced to the debates, ideas, structures, and assumptions of this text. This book explores the region's attempts to create effective constitutional texts and regimes in light of an established practice of linking constitutions to political goals and places important constitutional thinkers and regional constitutions, such as the Mexican Constitution of 1917, into their legal and historical context.
Table of contents:
Introduction
1. Constitutional limbo in early nineteenth-century Latin America
2. The Constitution of Cádiz: America's other first constitution
3. The colonies speak to the metropole: transatlantic constitutionalism
4. The failures and successes of metropole constitutionalism
5. Latin American constitutionalism after independence
6. The legacy of the Constitution of Cádiz: twentieth-century Latin American constitutionalism
7. Constitutional promise: Latin American constitutionalism today
Conclusion.
More information at
Cambridge University Press
.