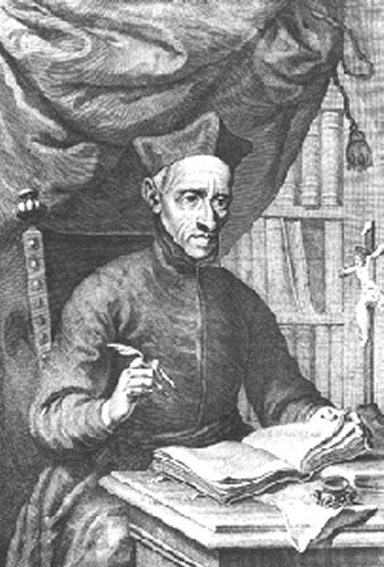 The "Hochschule" for Philosophy, the Ludwig-Maximilans-Universität of Munich and the University of Cologne organize a conference on Francisco Suarez, who counts among the stars of Spanish Neo-Scholastic thought.
Conference statement (in German):
Die Erforschung des frühneuzeitlichen Naturrechts gehört zu den innovativsten Feldern der ideen-, wissenschafts- und philosophiegeschichtlichen Forschung der letzten Jahrzehnte. Selbst vor dem Hintergrund der erheblichen Unterschiede in der Begründung der Geltung von säkularen und doch überpositiven Rechten ist dabei erkennbar geworden, dass das Naturrecht in der zunehmend weltlichen Neuzeit Grundlagenfunktionen einnimmt, die weit über die Fragen politischer Theorie hinausgehen. Im Rahmen dieser innovativen Erforschung frühneuzeitlichen Naturrechts bleiben die elaborierten Positionen Francisco Suárez' zumeist ausgespart. Daran soll die Tagung erste grundlegende Änderungen im Hinblick auf die Stellung des suarézischen Naturrechts im Tableau frühneuzeitlicher Naturrechtslehren erwirken.
Program (source:
HSozUKult
)
FREITAG, 05. 09. 2014
09.00 – 09.30
Norbert Brieskorn, Gideon Stiening, Holger Epp: Begrüßung, Eröffnung und Vorstellung der jüngst erschienenen, zweisprachigen Edition von ›De legibus ac Deo legislatore. Liber tertius‹ (PPR I,6–7) im frommann-holzboog Verlag
I. Naturrecht zwischen Theologie und Metaphysik
Diskussionsleitung: Norbert Brieskorn
09.30 – 10.30
Merio Scattola: Zum Verhältnis von lex aeterna und lex naturalis
10.30 – 11.00
Kaffeepause
11.00 – 12.00
Gideon Stiening: Urheber und/oder Gesetzgeber. Zur Funktion der Gottesinstanz im Naturrecht
12.00 – 13.00
Stefan Schweighöfer: Proxima regula bonitatis: das Gewissen und das natürliche Gesetz
13.00 – 14.00
Mittagspause
II. Naturrecht und Ethik
Diskussionsleitung: Tilman Repgen
14.00– 15.00
Thomas Pink: Law and liberty in Suárez
15.00 – 16.00
Markus Kremer: Zur Komplementarität von Naturrecht und Tugendlehre
16.00 – 16.30
Kaffeepause
16.30 – 17.30
Frank Grunert: Die obligatio in conscientia im Naturrecht von Francisco Suárez (II.9)
III. Historische und systematische Einheit des Naturrechts
Diskussionsleitung: Gideon Stiening
17.30 – 18.30
Dominik Recknagel: 'ius naturale praeceptivum' und 'ius naturale dominativum'. Die Unveränderlichkeit des Naturrechts bei Francisco Suárez (II,13-14)
20.00
Abendvortrag:
Kurt Seelmann: Zur historischen Wandelbarkeit des Naturrechts
SAMSTAG, 06. 09. 2014
09.00 – 10.00
Robert Schnepf: Zur Einheit des Naturrecht (II,8)
IV. Möglichkeiten und Grenzen des suárezischen Naturrechts
Diskussionsleitung: Matthias Lutz-Bachmann
10.00 – 11.00
Holger Glinka: Suárez' Naturrecht zwischen Säkularisierung und Re-Theologisierung (II, 11)
11.00 – 11.30
Kaffeepause
11.30 – 12.30
Dieter Hüning: Taugt die lex naturalis zur Begründung möglicher Zwangsbefugnisse?
12.30 – 13.30
Oliver Bach: "Ergo non est verisimile, reliquisse Deum homines sine hoc remedio"? Francisco Suárez über die Dispens und ein universales Naturrecht. (II,15)