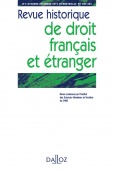 The
Revue Historique de droit français et étranger
(Dalloz) published its fourth issue of 2015.
Table of contents:
Articles
Luigi-Alberto Sanchi. – Guillaume Budé et la langue juridique (487-501)
Enrique Álvarez Cora. – La clasificación de los delitos en el siglo XVI (503-527)
Xavier Martin. – Vie et destinée des coutumes françaises. 1454-1804. Essai de synthèse (529-557)
Francesca Barone. – La peine dans l'Église orientale du IVe siècle (559-567)
William Goetzmann. – La traduction américaine de la thèse de G. Sicard, Aux origines des sociétés anonymes. Les moulins de Toulouse au Moyen Âge... (569-572)

Miscellanea
In memoriam Fritz Sturm (Jean-François Gerkens) (573)
In memoriam Germain Sicard (Philippe Nélidoff) (575)

Book reviews
Frédéric Audren et Jean-Louis Halpérin. – La culture juridique française.
Entre mythes et réalités. XIXe-XXe siècles (Jean-Paul Andrieux) (579-584) Pierre-Louis Boyer. – Un cercle intellectuel au coeur de l'évolution de la doctrine juridique. L'Académie de législation de Toulouse (1851-1958) (André Cabanis) (586)
Robert Chanaud (dir.). – Une histoire des circulations en Limousin. Hommes, idées et marchandises en mouvement de la Préhistoire à nos jours (André Cabanis) (587)
Bernard Durand, Mamadou Badji, Samba Thiam et Sandra Gérard-Loiseau (dir.) – Le juge et l'outre-mer, tome 7 : Le retour d'Orphée ; Martine Fabre et Dominique Mouret (dir.), tome 8 : Décolonisations : le repli de l'Etat. La mort d'Eurydice ; Martine Fabre (dir.), tome 9 : Décolonisations : le juge et les rapatriés. Revenir en Thessalie (André Cabanis) (588)
Jean-Marie Carbasse. – Histoire du droit pénal et de la justice criminelle (Marie-Yvonne Crepin) (589)
Sergio Castagnetti. – Le leges libitinariae flegree : edizione e commento (Françoise Van Haeperen) (592)
Sébastien Évrard. – Réformer l'administration et réformer l'État : jalons historiques et juridiques (Norbert Olszak) (593)
Michele Faraguna (éd). – Archives and archival documents in ancient societies, Trieste, 30 sept.-1er oct. 2011 (Lorenzo Gagliardi) (595)
Antoine Astaing, François Lormant (éds.). – Le juriste et la coutume du Moyen Âge au Code civil (Jean Hilaire) (601)
Arrigo D. Manfredini. – Rimetti a noi i nostri debiti. Forma delle remissione del debito dall'antichità all'esperienza europea contemporanea (Jean Andreau) (603)
Mathieu Altbuch. – Le divin, l'État et le droit international. Essai sur l'apport de la pensée biblique et du religieux dans la construction du droit international contemporain (Brigitte Basdevant-Gaudemet) (605)
Claude Andrault-Schmitt et Philippe Depreux. – Les chapitres séculiers et leur culture ; vie canoniale, art et musique à Saint Yrieix (VIe-XIIIe s.) (Brigitte Basdevant-Gaudemet) (606)
Marie Bassano, Esther Dehoux, Catherine Vincent (éds), Le Pèlerinage de l'âme de Guillaume de Digulleville (1355-1358). Regards croisés (Brigitte Basdevant-Gaudemet) (608)
Xavier Prévost. – Jacques Cujas (1522-1590). Jurisconsulte humaniste (Brigitte Basdevant-Gaudemet) (610)
More information on the Dalloz
website
.