As part of its extraordinary and ongoing mission to republish valuable legal texts of the past, the
Lawbook Exchange
has announced the publication of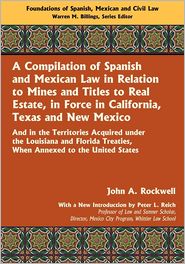 John A Rockwell, A Compilation of Spanish and Mexican Law in Relation to Mines and Titles to Real Estate, in Force in California, Texas and New Mexico; and in the Territories Acquired Under the Louisiana and Florida Treaties When Annexed to the United States (1851), with a new introduction by Peter L Reich
This is the latest text from the Foundations of Spanish, Mexican and Civil Law series (Warren M Billings, series editor). Other titles in the series include:
Laws and Decrees of the State of Coahuila and Texas in Spanish and English (1839), JP Kimball, trs., with a new introduction by Joseph W McKnight.
Joseph M White, A New Collection of Laws, Charters and Local Ordinances of the Governments of Great Britain, France and Spain: Relating to the Concessions of Land in their Respective Colonies, Together with the Laws of Mexico and Texas on the Same Subject, to Which is Prefixed Judge Johnson's Translation of Azo and Manuel's Institutes of the Civil Law of Spain (1839), with a new introduction by Agustin Parise.